Did you notice the new design?!
If you are reading this in your feed reader,
come on over
and check it out!
One of the reasons I chose to switch to blogger last month was because the customization seemed more intuitive for someone like me--someone who is just stumbling from one idea to the next. I had previously assumed that if you wanted to have any control over your blog design you would need some kind of specialized degree
I don't even know what it's called! or you would need to pay someone with said degree to take control of the blog for you. That is all fine and well for some folks, but I like to do things the hard way my way.

Plus I can't really justify spending the money on a blog design when I'm not even making money right now! ha!
Between this blog and the
Quest for Real Food
, I have spent
hours
trying to figure out how the heck I could make my blogs look the way I wanted them too. The worst part is that I could search for the same thing on different days and come up with completely different answers. So I wanted to share a few of the resources I have found to be most helpful.
If you have a Blogger account, you can sign in through draft.blogspot.com and use their templates to choose your background, layout, font sizes and colors, etc.
Because these are free templates, you are not going to have an entirely one-of-a-kind blog, but it is still free!
If you have not been to this site yet, GO NOW! I wish I had found this from the beginning.
Installing customized fonts
Finding fonts
Scrapvillage
is a great resource for downloading fonts. I think it only works with PCs though...if anyone has a good link for Mac-compatible fonts please post it in the comments.
Picnik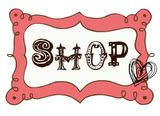 Picnik
offers free and fee-based photo editing options with loads of features. All of those photo collages I make are done on Picnik. The yearly fee for a premium account is something around $25, and it is worth it! I made the new blog header and shop button by uploading a "picture" of a white square
that I made on Word
and then adding all of the elements seen there.
If you would like to use it on your blog, please email me at irenedesign @ ymail . com for permissions.
Photobucket
I will be honest with you here; I really don't know all that photobucket does. I just use it to store images like my shop button, blog button, and blog header so that I can use the html codes for each.
I hope some of these resources will help you out a bit! If you have any to share, feel free to leave them in the comments or email me. If you have any questions, be sure to leave your email in the comments so I can get back to you directly, or send me an email if you would prefer.